What is LuxWorld?
LuxWorld is a Web3 lifestyle app with Social-Fi and Travel elements that requires you to check in to earn rewards — the more you check in, the more tokens you earn.
You equip yourself with Luggage/ Node NFTs and use them for checking in. By doing so, you will earn token, which can either be used in-game to enhance your NFT assets or cashed out for profit.
In LuxWorld's platform, Social-Fi allows people to earn through registration while traveling, withdraw NFT, buy NFT in the market, and exchange with people on the platform.
The story behind LuxWorld is the desire to contribute to the recovery and promotion of tourism attractions and entertainment activities around the world in general, including Vietnam after the Covid-19 pandemic.
Project's team also want to create a green tourism community – where members are passionate about tourism and entertainment activities but still aim to converse and limit adverse impacts on the living environment.
Make a lot of sense when you become a traveler – who falls in love for tourism, entertainment and earns money on their hobby. At the same time, in LuxWorld, we can contribute to the preservation of scenic conservation.
LuxWorld aims to inspire sustainable development and connect the public to Web 3.0. It currently runs on Binance.
Outstanding Features
Game Modes
LuxWorld will have 3 game modes:
Journey Mode: users are equipped with NFT and earn token by checking in. Check-in is needed to earn these tokens. Rewards will be paid out for every sucessful check-in and are dependent on factors.
LuxNGO Mode: users need to register under the LuxNGo list at least 7 days prior to commencement. LuxWorld designated places for users to travel in the metaverse. Trips will be organized Weekly LuxNGo, Monthly LuxNGo, Quarterly LuxNGo and Yearly LuxNGo.
Free Mode: In the event that the outdoor travelling to check-in is not possible, users can maintain the healthy lifestyle with LuxWorld by switching to Free Destination Mode. In Free Destination, on a daily basis, Travellers are equipped with NFT Luggage to earn 1 LUX by moving over 3,000 steps (equivalent to 2.4km).
Right now, the Journey Mode is live and the LuxWorld team is planning to release LuxNGO and Free Modes in the near future.
Luggages
There are 4 Luggage types, each designed to suit a different travel requirement: Suitcase, Duffel, Briefcase, and Backpack.
Luggages have different attributes such as:
Space (LUX Earnings): Luggage has higher Space attribute points will result in better LUX earnings.
Luck (Lucky Box): Luck determines the frequency and quality of a Lucky Box drop.
Flexibility (Minting Speed): Luggage has higher Flexibility attribute points will result in a higher Minting Speed, leading to a shorter waiting time at Check-in Node.
Renovation (Durability): Renovation affects Durability. Higher Renovation will result in a slower Durability decay. The higher the Luggage level or quality, the higher the repair cost.
After every check-in, the durability of the Luggage will decrease (based on the Luggage's renovation attribute), directly affecting the LUX earning of travel users. To ensure the earnings, users should repair the luggage at the important milestones:
At 50/100 Durability, LUX earning drops to 90%
At 20/100 Durability, LUX earning drops to 10%
To increase Attribute points, Travel Users can:
Level Up to get more attribute points to allocate
Buy a higher quality Luggage.
Insert Diamond to the Lock of Luggage
Nodes
Check-in Node is a digital piece of real estate in LuxWorld. Each one is a unique and non-fungible BEP-20 on the Binance blockchain.The initial of a check-in node have wide coverage with a radius of 8 m. The coordinates should not be related to PSA (Politically sensitive areas).
The main purpose of Nodes is to allow owners to earn passively money from travelers' jouney and make their first footprints in metaverse.
There are four quality of Node. With a Classic Node, each time you level up, you get 5 attribute points that you can distribute to your Node attributes.
Nodes have different attributes such as:
Popularity, which have much more popularity will result in better LUX earnings token.
Magic, which increases the chance of random magic box during a session.
Coverage, which affects check-in area and check-in cap.
Resilience, which slows down wear and tear of Energy
At the early phrase of LuxWorld project, limited NFT Nodes are granted free. NFT Nodes are purchased from LuxWorld in-app marketplace and you need to have registered an account first.
Diamond
Diamond is one in-game feature that help users to progress faster.
To enhance Luggages attributes, users can use Diamond. There are four types of Diamond, with each Diamond representing an Attribute:
Blue: Space
Red: Luck
Purple: Flexibility
Yellow: Renovation
By burning LUX, users can also upgrade their Diamond.
Roadmap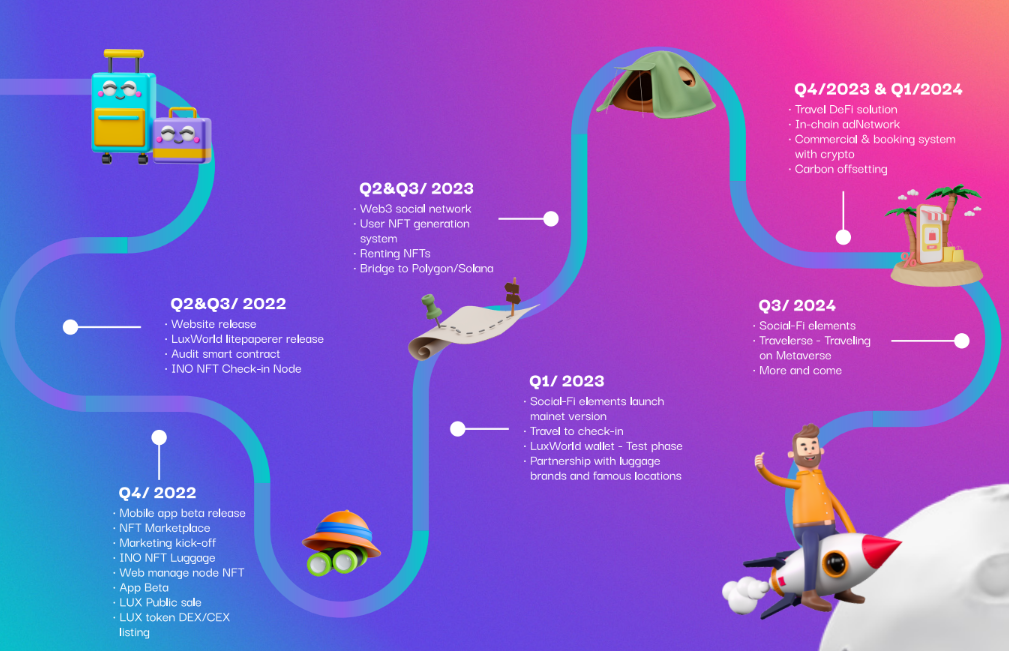 Token Metrics
Token Name: LuxWorld token
Ticker: LUX
Blockchain: BNB
Token type: BEP-20
Contract: Updating.
Token Type: Utility
Total Supply: 1,000,000,000
Token Allocation

Token Use Case
Minting (Creating)
The LUX is minted at the Token Generation Event, with a total of 1,000,000,000 minted.
Burning (Destroying)
The LUX is burned by:
Luggae/Node-Minting
Repair
Leveling up
Diamond upgrade
Unlocking Locks
Resetting Luggage Attributes
The project is being developed real-time, and if one thing is for certain is that the founders will continue to innovate, iterate and improve the gameplay as the app continues its meteoric rise.
Find more information about LuxWorld
Website: https://lux.world/
Whitepaper: https://whitepaper.lux.world/
Twitter: https://twitter.com/LuxWorld_