NFTs have taken the world of digital assets by storm, quickly establishing themselves as a pioneering new market for blockchain enthusiasts, digital investors and art aficionados. While there are many forms of NFTs, from exclusive music tracks to gamified clubs for members who hold a relevant NFT, the most common type of NFT is visual art.
Under the broad category of visual art, there are a plethora of different topics and niche interests for which there are available NFTs. However, one topic that is globally appreciated is city-scapes. Whether represented through digitally generated art, photography or traditional art pieces, people all over the world have a love of cities and urban landscapes.
Cities represent what people can achieve when they come together, so it's fitting that this subcategory of NFTs should be one of the most popular, given the NFT community's recent emergence as a world-spanning group of like-minded individuals. Yet, as with anything, not all cities are made equal, and while beauty is in the eye of the beholder, there are some urban locations that have taken the lead as the top places to be represented in NFT artworks.
With this in mind, we wanted to identify which cities from around the world are the most popular when it comes to NFTs. Having considered hundreds of cities from every corner of the globe, we can reveal the top cities that are most sought-after by NFT collectors.
The top 50 NFT cities
Having considered over 400 cities in our study, we can reveal the most-searched-for NFT cities in the world. Are these the cities that you'd add to your digital art collection?
The top 3 NFT cities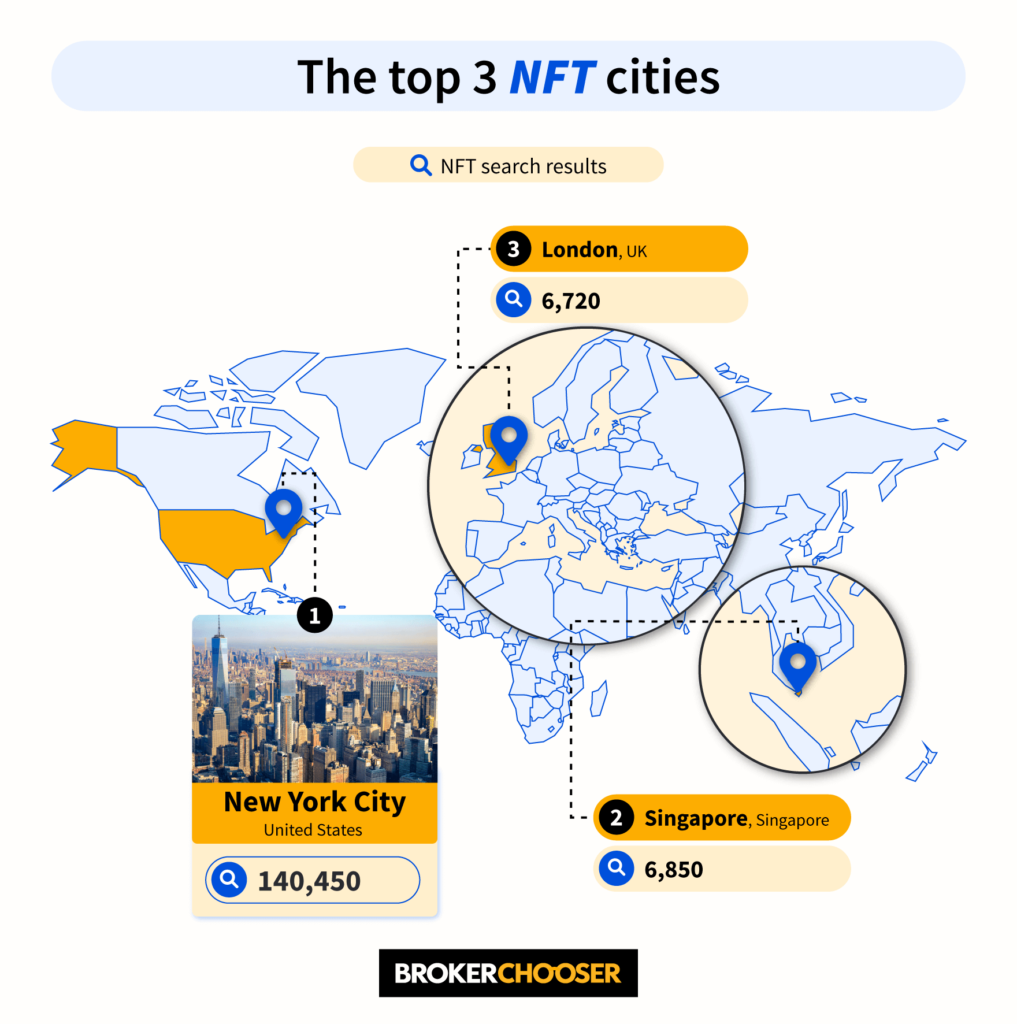 1. New York City – NFT Searches: 140,450
By far the most popular NFT city is New York, which received more searches than all the other cities in our study combined! The Big Apple is an instantly recognisable urban landscape with a very unique aesthetic that is known the world over. One of the most culturally important cities in the western world, New York is a melting pot of people and cultures from every nation under the sun, which could go some way to explaining the colossal 140,450 NFT searches that the city received.
2. Singapore – NFT Searches: 6,850
In second place, with 6,850 NFT searches, is Singapore. Referred to as the "Silicon Valley of Asia" by KPMG, Singapore has a reputation for being a hub for innovation and development, which NFT enthusiasts may find appealing. The city itself has one of the most modern and impressive skylines in the world, while also being at the forefront of the green city movement. Here you'll find towers and apartment blocks designed to allow plants to grow all over their exteriors to help combat urban air pollution, all of which represents the city's forward-thinking attitude to development.
3. London – NFT Searches: 6,720
London is hot on Singapore's heels and takes third place with 6,720 NFT searches. One of the most iconic and well-known cities in the world, London is just as much of a cultural goldmine as New York, being home to diverse communities possessing heritage from all over the world. Boasting stunning architecture, including famous landmarks like Buckingham Palace, Saint Paul's Cathedral, Big Ben and countless others, the skyline of the UK capital is one of the most distinctive in the world. Considering all of this, it's no wonder that so many people want to own digital art featuring the unique and quintessentially British London aesthetic.
Source: Ádám Nasli (BrokerChooser)