Are you looking for information on the LuxWorld Diamond system?
Diamond's Type and Level
There are four types of Diamond, with each Diamond representing an Attribute of Luggage:
1.Blue: Space (For Travelers) /Popularity (For Check-in Node Owners)
2.Red: Luck
3.Purple: Flexibility/Coverage
4.Yellow: Renovation/Resilence
By heading to the Upgrade tab under the Diamond section, users can upgrade their Diamond by burning LUX and combining 3 Diamond of the same level and type to a higher level (i.e three Level-1 Space Diamond to one Level-2 Space Diamond).
Multiple Diamonds of the same type and level can also be used to upgrade to a higher level Diamond.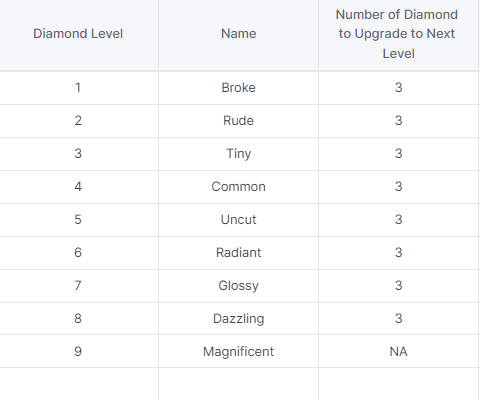 Warning: There is a certain percentage Diamond upgrade which can fail from Level 1 – 5, if the upgrade fails, users will lose their Diamond.
Use case of Diamond
Diamond are important because they allow you to boost to effect of your luggage/node's attributes through Awakening Effect. For example, Diamond boosts the Base Attribute of the Luggage. i.e. A Level 3 Space Diamond will boost a Level 1 Luggage with 5 Base Space is: 5 (Lugagge Attribute) + 5 x 40% (Diamond Awakening Effect to Luggage Attribute) + 25 (Diamond Attribute) = 32.
You will have the chance of receiving Diamond by opening lucky box.