Maybe you've understood that Checkin is an important element in the LuxWorld but still find it fairly complicated? In this guide, you'll learn how LuxWorld Checkin works, how to increase your Checkin.
How Does Check-in Work?
Of all of the different things that are important in STEPN, Check-in is probably by far the most important factor. No matter how great your luggage or node NFTs may be, if you don't have sufficient checkin, you will not receive any reward.
For travelers, they'll be limited to a maximum of 4 check-in. It refills 1 check-in every 6 hours. Meanwhile, for node owners, they can receive 30 check-in at once.
How to Increase Check-in?
For travelers, there are 2 ways in which you can increase your check-in:
Buy more luggages
Buy higher-quality/rarer luggages
Buy more types of luggages
Bear in mind that the current maximum check-in level per user is limited to 30.

Additional Check-in (cumulative) is given for higher quality luggage:
Owning a variety of Luggage also increase the number of check-in cap:
2 different types of Luggage: + 1
3 different types of Luggage: +2
4 different types of Luggage: +3
For example, if you own 2 common and 1 rare luggage, you will have 8+2+1=11 check-in.
For Node Owners, they can increase the number of check-in through number of nodes you own, Adjacent Node and quality of Nodes (Grand, Premium and Luxury). Adjacent Node means when you own several nodes one next to another, you gain extra check-in.

Besides, you can level up to increase the Coverage attribute of the Check-in Node to increase check-in cap.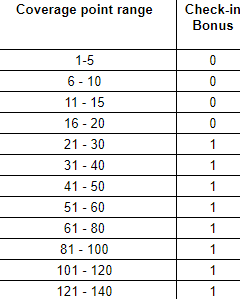 For example, if you own 2 classic nodes, 1 grand node, and those nodes locate next to each other, you will 30*3 +1+2=93 check-in.
Find more information about LuxWorld
Website: https://lux.world/
Whitepaper: https://whitepaper.lux.world/
Twitter: https://twitter.com/LuxWorld_