Just a couple of days left until the LuxWorld presale! In this blog, we will show you step by step how to participate in the presale on the Lux.world.
Feel free to contact us in case of problem via [email protected] or telegram 1 or telegram 2.
How to participate in the LuxWorld presale
Participating in the presale is a good idea if you wish to purchase LUX token before this potential price spike. All you need to do is create a wallet, buy some USDT/ETH/BNB, link the wallet to the presale and use the USDT/ETH/BNB to make your purchase. Once the presale is complete, you will be provided with an option to claim your tokens.
We've made it very easy to participate in the LuxWorld presale.
A little rundown on the most important numbers of this presale:
There will be 900.000.000 $LUX available (accounts for 45% total of supply) for the presale at an attractive price.
There is a minimum purchase of 1000 LUX.
Buy earlier to get the best price.
Let's go through the steps to successfully buy $LUX
Step 1: Install Wallet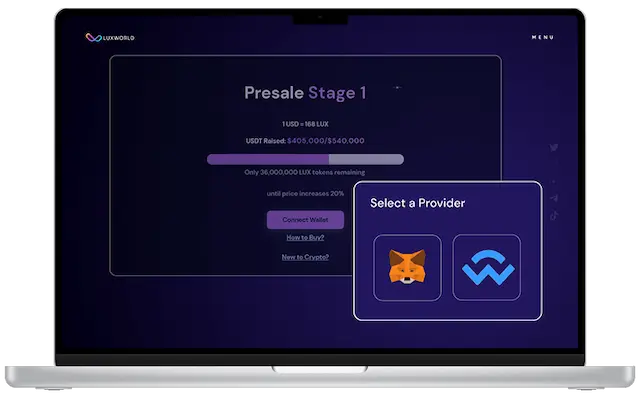 To begin, make sure you have a MetaMask wallet installed on your browser, or use one of the wallets supported by Wallet Connect (we recommend Trust Wallet).
Purchasing from a desktop browser with Metamask may give you a smoother buying experience. For buying on mobile phone, it is recommend to use Trust Wallet and connect through the built-in browser (just copy https://lux.world to the Trust Wallet browser).
Make sure you have sufficient USDT/ETH/BNB in walllet to purchase LUX. Or you can use your credit card/debit card to buy ETH/BNB that will be sent to your wallet.
Step 2: Connect Wallet
Once your favourite wallet is ready, click "Connect Wallet" and select the most appropriate out of 3 options below then fill the amount and Click "Buy".
Buy with ETH/BNB
Once you have enough ETH (ERC-20) or BNB (BEP-20) in wallet, you can exchange your ETH/BNB for LUX.
Enter the amount of LUX you wish to buy (minimum 1,000) and click Exchange ETH or Exchange BNB.
Your wallet provider will ask you to confirm the transaction and will also show you the gas cost.
Buy with USDT/BUSD
Make sure you have at least 20 USDT (ERC-20) or 20 BUSD (BEP-20) in your wallet.
Enter the amount of LUX you wish to purchase (minimum 1,000). Click Exchange USDT or Exchange BUSD.
You will then be asked to approve twice: for the USDT/BUSD contract and for the transaction amount.
Step 3: Claim Token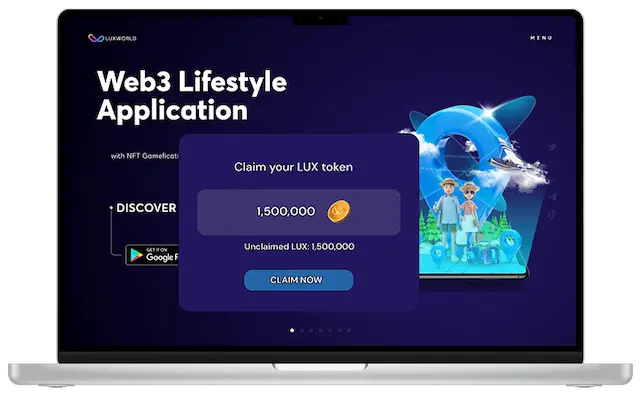 Once the presale has completed, your LUX tokens will be claimed.
Please visit our site and follow our social channels to keep up our latest announcements.
Congratulations, you've just participated in the $LUX presale and your tokens will be ready to claim when the presale ends.
Features & Functionality of $LUX
LUX will have the following functions:
 For Fee settlement:Fees on LuxWorld can be settled only in the LUX tokens including level up, mint NFT, repair, open lucky box and upgrade diamond.
For Staking: LuxWorld will enable the LUX token holders to stake and earn yield.
For User's attention and funding: LUX token is more of a payment option and staking purpose, but still, it can be used as a pure medium of grasping the user's attention. This can be done by rewarding the users.
For farming NFT: LUX holders will be able to farm LuxWorld NFT luggages/nodes
$LUX Tokenomics
LuxWorld Token (LUX) are built on the Ethereum and developed as the native token of the meteverse.
Token Name: LuxWorld token

Token Symbol: LUX
Token Decimals: 18
Token Type: ERC-20
Total Supply: 2,000,000,000